MITCHELL E. ROBLES
Inspiration -- Dr. James Deetz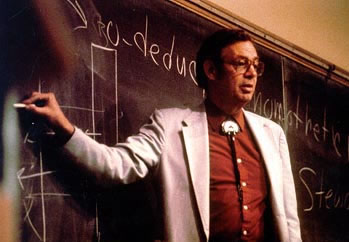 ANECDOTES ABOUT DR. JAMES DEETZ

By age 15, I had been heavily influenced by Dr. James Deetz, famed historical archeologist and anthropologist and professor, who taught at University of California, Santa Barbara, Harvard, Brown, William and Mary, University of California, Berkeley, and University of Virginia. He was well-known as the "Father of Archeology."
His children, nine in all, were close to me and my brothers while growing up in Santa Barbara, California during the 1960's. My parents would socialize with the Deetz' and our families would go on picnics and other outings. On several occasions, Dr. Deetz took us on excursions to local Chumash rock art sites. He showed us numerous pictograph sites, many of which are not known to the general public. I spent the summer of 1969 in Plymouth, MA with the Deetz family. Dr. Deetz was working on the Plymouth Plantation digs and I was allowed to tag along and help out with the digs.

I often recall a funny story on our way to the local Painted Cave site. Dr. Deetz was set to take a photo of all of us boys and tried to click the shutter, looked at the camera and asked us in a stern voice, "Who stuck peanut butter in the camera?" It sure wasn't me. My guess was that is was Joey, his son.
More information on James Deetz